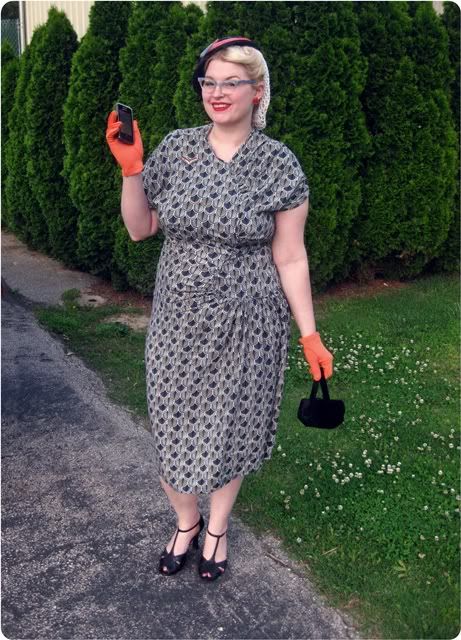 Thursday date night seemed like any other date night- a dinner and a movie plan. I wore this dress I made about 2 years ago from
this Vintage Vogue pattern
5 and have never worn until now. At first, I loved the deco print but later decided that it was a crazy choice. I finally tried it on today and fell back in love with it. Pj assures me that it's a great dress and I got a few compliments from others also. This pattern is an amazing style for full figured ladies. It drapes beautifully, accentuates the good curves and conceals the less-than-appealing ones, like my mom belly. I made the same dress in army green, which you can see
here
.
We were in a rush to leave and I whipped up a quick and easy hairstyle around one of my new hats. I thought I'd do a little how-to of this simple style.
During dinner at our favorite sushi place, we started talking about
Geocaching
. Geocaching is a really neat activity. You look up Geocaching sites in your area on the website and use a gps to locate the cache. The cache is usually a small container filled with little trinkets and a log of who found the cache. You can remove an item from the cache but if you do, you have to add something to it. Sign the log and return the cache to its original location so the next adventurer can find it. We just got a new smart phone with a geocaching app for finding local, caches. It has a map, a compass and a gps locator. Even though I was in heels and all dolled up, I really wanted to go find at least one cache. I have always been a tree-climbing, digging-in-the-dirt kind of girl. There were several right by the restaurant so off we went to a local cemetery for our first cache.
It's right over there!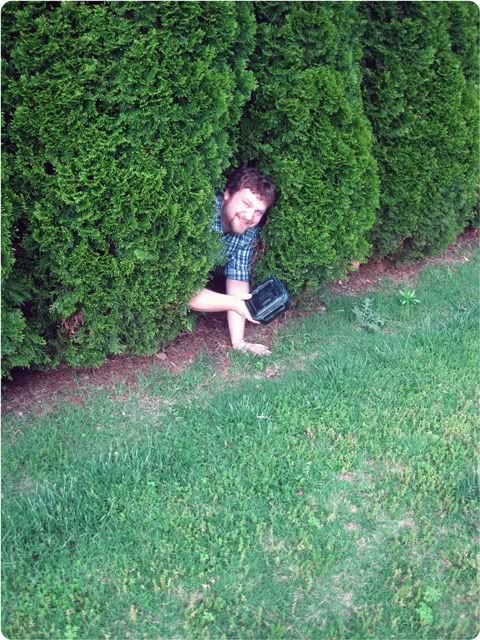 Pj found it in the bushes
Signing the log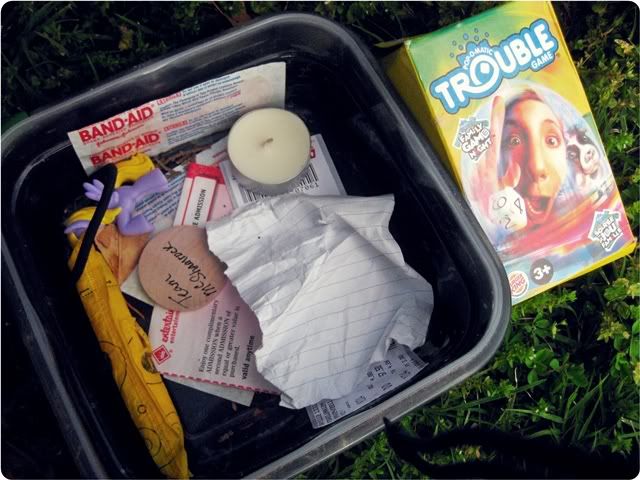 the treasure
After our first, we went on to the next- supposedly at a nearby commuter parking lot but we turned over rocks, Pj climbed a fence and still no cache to be found. It may have been taken or hidden too well. The description of this cache said that this location was chosen because they wanted to show us the beauty of places that we don't think are beautiful. Although we never found the cache, we stopped for a moment to look up and see the view of the sky, the highway and a sight that we have both overlooked thousands of times before.
The 3rd cache was located at a small business. We arrived in the parking lot, walked around to the business, which was closed and nearly gave up when I noticed this drain spout, which was the only place to hide a small box. I crawled down to peek inside and found this tiny box stuck to the bottom of the spout with a magnet. It contained the log book, 7 cents and an earring. With no pencil, we were unable to sign the log so we will return later to make note of our find. There are caches all over the world and maybe in your own back yard!
Outfit
40's style dress-handmade by me
1940's straw hat-Brenda Sue's
orange thermoset screw back earrings-thrifted
coral gloves-no idea!
1940's black velvet handbag-thrifted
black peep toe t-strap shoes-thrifted
1940's rhinestone V for Victory brooch-flea market