Astor Place Vintage
I'm currently reading Astor Place Vintage- an enchanting novel about Amanda, a vintage shop owner in New York who, while buying new stock for her shop, finds a diary from 1907 hidden in an antique muff. The diary is written by Olive, a strong spirited girl who works in her father's department store. Their stories and the places they live in are entwined in this charmingly wonderful book. Stay tuned for a full review of Astor Place Vintage. Check out the video above for a glimpse into Astor Place Vintage
Moon Walk Vintage
Moon Walk Vintage is owned by UK based mother and daughter team, Susie and Elaine who are obsessed with vintage fashion, especially mid-twentieth century. Moon Walk Vintage stocks a wide array of iconic garments and accessories from the 40's-80's. Susie also makes her own jewelry, which you can see at Susie Morrow Jewellery.
This fall, Moon Walk Vintage has stocked an assortment of
vintage ladies suits
,
jackets
and
scarves
Lady Eve Millinery
Is there anything more decadent than a handmade hat? Aimee of Lady Eve Millinery is an amazingly talented milliner with an eye for vintage style. Recently, she has been making some fabulous new styles in summery straw and wools for fall and winter.
Plasticland
Plasticland curates kitschy clothes, accessories and home decor with a vintage twist. I'm loving these Victorian inspired pieces. They have a huge clearance sale going on right now. Check it out to save up to 70% off!
Phonograph Fashions
Phonograph Fashions is a new etsy shop owned late last month by fellow blogger Kate from
Vintage in a Modern World
. Phonograph Fashions specializes in handmade early 19th century inspired clothing and accessories. Kate stocks a beautiful selection of 1920s style blouses, Victorian separates and more. Kate just listed some gorgeous vintage separates for fall.
Scarves are on sale this this month!
Vintage Makeup Guides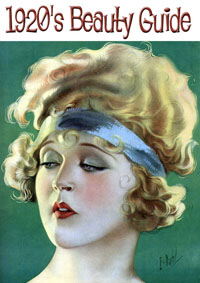 Vintage Makeup Guides by the fabulous Glamor Daze blog are original vintage beauty books in downloadable format loaded with makeup application instructions, details on products used, skin care and more. I had so much fun reading through the decades and experimenting with different looks. The book for each era is $10 but you can also download all makeup guides for $20. Click each above for details